Mission Holiday: 10 Tips for Caregivers of Injured Veterans to Enjoy the Holiday Season
Posted by Hal Blake on Wednesday, December 22, 2021 at 10:49 AM
By Hal Blake / December 22, 2021
Comment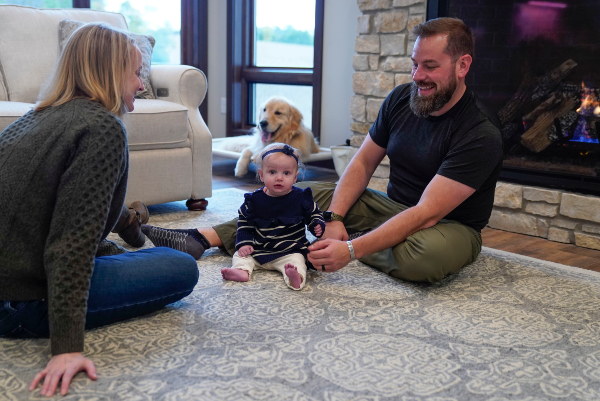 You have decorated the house, planned the menu, and negotiated a matrix of family visits. Time to relax, put your feet up, and enjoy the holidays, right?
The holidays bring challenges that can build stress in any household. Pile on a group of folks you love, but haven't seen since pre-pandemic days, and you could have a recipe for stress, especially for caregivers of wounded veterans.
Before you shy away from human interaction, let's think about ways to take it all in stride and build pleasant memories with your loved ones.
"There are positive steps you can take to reduce your stress level as a caregiver," said Erika Myers, WWP Talk manager at Wounded Warrior Project® (WWP). Erika and team provide free, weekly emotional support calls to help veterans and caregivers cope with invisible wounds throughout the year. She walked us through some steps to minimize stress during the holidays, specifically for caregivers.
Know you're not alone. Caregiving is behind-the-scenes work and it is often undervalued – but not unnoticed. You do deserve attention, love, and pampering. Pat yourself on the back for being a hidden hero who carries others through the finish line.
Notice your own triggers. You've developed a keen eye for triggers in others. Use that finely honed skill on yourself and take notice of that dull pain, irritation, or tiredness. It may be an "edgy" feeling, perceiving yourself as lonely in a crowd, or just plain exhaustion. Recognize your own signs of burnout. Know and accept your limits.
Simplify. Send e-cards instead of paper cards. Make a simpler dish, or ask others to chip in.
Engage in healthy habits. Avoid overeating. Drink more water and less eggnog. Go for a walk. Avoid taking on anything else – especially if it will hurt you later.
Make time for yourself. Light a candle, watch your favorite show, take a stroll outside.
Communicate your feelings mindfully. Don't hold onto things.
Reach out to friends, family, a pastor, or a counselor. Connect with others for help. It's tempting to postpone your self-care appointments because there's so little time. But now is when you need it most.
Realize you're not responsible for everyone else's mood. It's hard enough controlling your own responses. Let go of things you cannot control. If your veteran encounters a trigger, diffuse the situation, and gently avoid a confrontation.
Manage your own expectations. The kids don't need a perfect parent, or every present on the list – they will be happy with a parent who is present.
Practice gratitude. Be thankful you're here. Breathe.
In short, have realistic expectations and encourage the same for your veteran, children, and parents. There's joy in keeping things simple.
Above all, keep the communication open with your veteran. Talk about how you both feel. Have small check-ins with each other. And it's OK to talk about an exit plan to leave grandmother's house early. If things get uncomfortable, give each other "the look," and make an early exit for a quieter setting.
As a caregiver, you do deserve meaningful connections. You do deserve care and pampering. It's OK to have boundaries. It's OK to not have the "perfect" holiday party. Joy can be found in the imperfect times when you speak your mind and connect with someone on a different wavelength.
If you see signs of stress, reach out for help. First, talk to someone you trust. For your second line of defense, call the WWP Resource Center for assistance and referrals: 1-888-WWPALUM (997.2586).
If necessary, reach out to the VA crisis line before things escalate: 1.800.273.8255 and press "1." You can also text 838255 to Veterans Crisis Line to chat live with a crisis counselor at any time.
About Wounded Warrior Project
Since 2003, Wounded Warrior Project® (WWP) has been meeting the growing needs of warriors, their families, and caregivers — helping them achieve their highest ambition. Learn more.
Thanks for reading todays blog
GO SERVE BIG!
Hal and Jason Blake

Remember, your referrals change lives! We donate a portion of our income, on every home sale, to help those who need help the most! When you buy or sell with Your Home Sold Guaranteed Realty Advisors, a Great Worthy Cause Benefits! www.BlakeTeamReferrals.com
SUBMIT A REFERRAL AND HELP THE WOUNDED WARRIORS